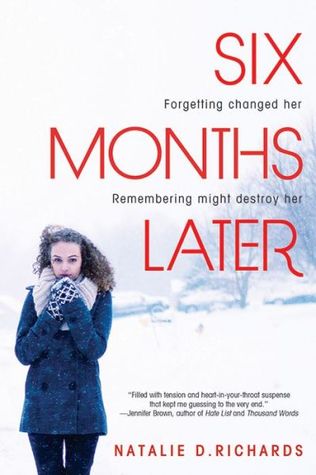 Six Months Later
by Natalie Richards
Release Date: October 1st, 2013
She has everything she's ever wanted. But not her memory...



When Chloe fell asleep in study hall, it was the middle of May. When she wakes up, snow is on the ground and she can't remember the last six months of her life.





Before, she'd been a mediocre student. Now, she's on track for valedictorian and being recruited by Ivy League schools. Before, she never had a chance with super jock Blake. Now he's her boyfriend. Before, she and Maggie were inseparable. Now her best friend won't speak to her.



What happened to her? Remembering the truth could be more dangerous than she knows..
I've seen quite a few mixed reviews about this so I was a little apprehensive about reading it, but even though there were quite a few bad reviews for this book, I loved it. Some people say it wasn't mysterious, that the mystery was obvious from the beginning, but I was guessing up until the very end. I had no idea and I loved that about the book.
Chloe was such a great main character. I like Richards formed her well and made her into such a believable character. I felt all her pains and my heart was racing along with hers. And Adam, boy oh boy, was he dreamy. He was such a heartfelt character toward Chloe, and I loved him even after the plot twist. He was such a genuine person and was such an unselfish person.