Title: Finale (Hush Hush #4)
Author: Becca Fitzpatrick
Overview: Nora is more certain than ever that she is in love with Patch. Fallen angel or no, he is the one for her. Her heritage and destiny may mean they are fated to be enemies, but there is no turning her back on him. Now Nora and Patch must gather their strength to face one last, perilous trial. Old enemies return, new enemies are made, and a friend's ultimate betrayal threatens the peace Patch and Nora so desperately want. The battle lines are drawn—but which sides are they on? And in the end, are there some obstacles even love can't conquer?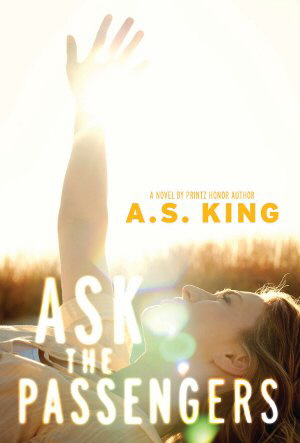 Title: Ask the Passengers
Author: A.S. King
Overview: Astrid Jones desperately wants to confide in someone, but her mother's pushiness and her father's lack of interest tell her they're the last people she can trust. Instead, Astrid spends hours lying on the backyard picnic table watching airplanes fly overhead. She doesn't know the passengers inside, but they're the only people who won't judge her when she asks them her most personal questions . . . like what it means that she's falling in love with a girl. As her secret relationship becomes more intense and her friends demand answers, Astrid has nowhere left to turn. She can't share the truth with anyone except the people at thirty thousand feet, and they don't even know she's there. But little does Astrid know just how much even the tiniest connection will affect these strangers' lives--and her own--for the better. In this truly original portrayal of a girl struggling to break free of society's definitions, Printz Honor author A.S. King asks readers to question everything--and offers hope to those who will never stop seeking real love.
Title:
The Evolution of Mara Dyer
Author:
Michelle Hodkin
Overview:
Mara Dyer once believed she could run from her past.
She can't.
She used to think her problems were all in her head.
They aren't.
She couldn't imagine that after everything she's been through, the boy she loves would still be keeping secrets.
She's wrong.
In this gripping sequel to The Unbecoming of Mara Dyer, the truth evolves and choices prove deadly. What will become of Mara Dyer next?
Title
: The Lost Prince (The Iron Fey series)
Author
: Julie Kagawa
Overview
:
Don't look at Them. Never let Them know you can see Them.
That is Ethan Chase's unbreakable rule. Until the fey he avoids at all costs—including his reputation—begin to disappear, and Ethan is attacked. Now he must change the rules to protect his family. To save a girl he never thought he'd dare to fall for.
Ethan thought he had protected himself from his older sister's world—the land of Faery. His previous time in the Iron Realm left him with nothing but fear and disgust for the world Meghan Chase has made her home, a land of myth and talking cats, of magic and seductive enemies. But when destiny comes for Ethan, there is no escape from a danger long, long forgotten.